System
Basic
Our Basic Karaoke System is great for a party with about 15 guests, it includes everything you need, most importantly a high quality sound system and our karaoke tablets. Tons of fun for everyone!
Book Now
High-Quality
Our High-Quality Karaoke System is great for parties of 30 or more guests, in addition to everything in our basic system it also includes wireless microphones, a projector and great party lights.
Book Now
Features
Our systems include everything listed below. As well, you can use our speakers with your iPod or MP3 player to listen to your own music. All our systems also include a HDMI cable so you can use your television as a second display.
Room Size
Small conference room
Reception hall or large room
Speakers
Yamaha 400 watts
Yamaha 480 watts
Songs
All our systems include 9,000 English songs, 500 French songs, from the 1950's to today, and all genres.
Microphones
Two Professional Wired Microphones
Two Professional Wireless Microphones
Tablets
Two Tablets
Three Tablets
Display
22″
24″ + 80″ projector
Projector
–
Projector and 80″ Screen
Party Lights
Basic party light
Deluxe party light
Delivery and Installation
Delivery in our free delivery zone is included in the price. Installation is always free and will take us about 30 minutes. If you live beyond our delivery zone please enter your postal code below to see the cost.
Fun!
All of our rentals include a box of props to help give your party a great atmosphere. Our prop boxes usually include sunglasses, hats and other fun accessories. The high-quality system comes with our deluxe props
Instruments
Basic instrument package
Deluxe instrument package

Why Karaoke at Your Office Party?
Organizing a party that everyone will enjoy is not easy, especially with office parties. After all they don't come along very often and you're trying to please a group of people who will have very varied tastes.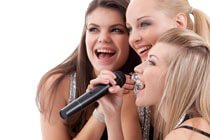 Now you'll never find the perfect activity, but you will come very close with a karaoke rental.Why? Well, first of all
our systems double as a sound system
, so right there you can already spend half the night doing karaoke, half the night listening to music. Second of all, karaoke is a great way to get
people out of their seats and dancing
. Karaoke is also just a lot of fun and is a great team-building exercise.Finally, our service makes your role as the party planner much easier as we have
free delivery and installation
,
great equipment
and a
stress-free booking system
.

A Real-Life Experience: Garrett
Garrett had Karaoke Montreal at his Christmas office party last december, they partied till the early hours of the morning

Need Time to Think About it?
Just fill in the boxes below and you'll get the following:
Free bonus

Get a free upgrade (a $15 value!) if you eventually book a system!

No Commitment Reservation

If we have availabilities, we'll set a system aside for you for up to 5 days at no cost.

More Information

We'll send you more information on our karaoke rental service!

Join Hundreds of Satisfied Clients
We've had the pleasure of sharing our karaoke with Montreal area companies big and small: Admission, Autodesk, Bell, Bleublancrouge Marketing, Desjardins, Brio Conseils, Caracol, Evenko, Insight, Leons, Lola Rosa, Mexx, Target, Transcontinental & Vayola. Here are some testimonials from past corporate clients:
"Thanks so much for helping us create a memorable evening! We had such a great time, and your service was exceptional and professional – everything from setting up, supplying your fun accessories, and pick up."
Helen who celebrated Christmas at her office with Karaoke Montreal
"Who would have thought a karaoke office lunch party would turn out to be one of the most efficient team building activity to end a stressful year! On top of it the machines are easy to use and have a varied music selection to satisfy everyone's musical style !"
Sarine who had a karaoke lunch at her office.
"My colleagues loved it, and it brought the whole office together!"
Leo T. who had an Office Christmas party at McGill
"Amazing Night! Excellent service, quick and efficient, I recommend Karaoke Montreal without hesitation!"
Sonia who had co-workers over for a Home Karaoke Party
"The night went well and people literally attacked the karaoke. We honestly sang from 5pm till 4am (of course we had a few interruptions for supper and some activities). Withour karaoke the night would not have been as animated and we would not have partied so late. We also really appreciated the tablets and vast catalogue of songs. Thank you very much!"
Anthony who had a Karaoke Office Party

Satisfaction Guarantee
We offer the best karaoke rental service in Montreal. Our state of the art systems are guaranteed to make a great party!*

Hi, I'm Sean, owner of Karaoke Montreal. If you have any questions about our service please send me an email or call 514-360-2472. You can also quickly click here to book