What is a Karaoke Rental?
Delivery and Installation Don't worry about driving across town and fiddling with wires, Karaoke Rental Montreal will take care of that for you!
Easy to Use Tablets Press on the song you want to sing and it plays! It's as easy as that! Add a couple more and they'll play automatically too!
High Quality Equipment Our Karaoke Rental Montreal systems come with high-quality speakers and microphones. Giving you the best karaoke experience.

Our Karaoke Machine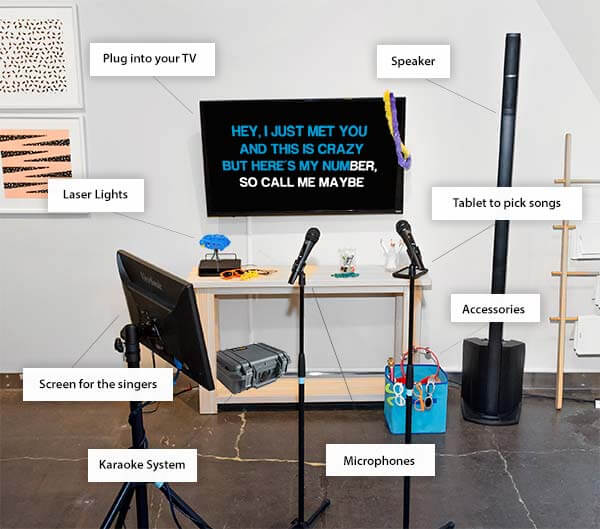 Karaoke Rental Montreal Pricing
Pick your event type below to discover what system is best for you and how much it will cost.

Hi, I'm Sean, owner of Karaoke Rental Montreal. If you have any questions about our service please send me an email or call 514-360-2472. You can also quickly click here to rent a karaoke machine

A Real-Life Experience with Garrett
Garrett had Karaoke Rental Montreal at his Christmas office party last December, they partied till the early hours of the morning

What our Customers are Saying
"Karaoke Rental Montreal was amazing! The tablet system was simple and quick to use and made for seamless transitions between songs. The sound quality was great. There was a huge and varied song selection that satisfied even the most eclectic of my guests' tastes. All this, and they were so pleasant and accommodating even in spite of our last minute booking! Thanks for helping to make my birthday a huge success!! We had so much fun."
Audrey F. who celebrated her birthday with karaoke
"Thank YOU so very much Sean for your excellent service and quick delivery. In conclusion, Wow… You exceeded my expectations and the sound system for the Karaoke and speeches was just perfect just as you had recommended. You are a true professional with the utmost integrity and it was great to have you service our needs."
Elizabeth Dawson, who celebrated her mother's birthday with Karaoke
"Thank you for everything Karaoke Rental Montreal!!! We had fun like little kids at our Christmas party. I was told that it was the organization's best Christmas party ever! You would have though a show at the Bell Center."
Marie-Josée Beauregard from DEVP who had a Karaoke Christmas party
"We had the best time ever!!! The service , the price – everything was perfect. I will definitely use you guys again and refer people. To sum it all: Perfect for our office party. Merci a vous – vraiment !"
Rose Francois from EF Educational Tours who had a karaoke office party

Sing Your Favorite Hits
Pick from over 13,000 songs in French and English. Our Karaoke Rental Montreal karaoke machine has songs from all genres, from the 1950's up today. Here are a few songs you'll probably end up singing:
| | |
| --- | --- |
| I Will Survive Gloria Gaynor | Dancing Queen ABBA |
| Y.M.C.A. Village People | Smells like Teen Spirit Nirvana |
| Hey Jude Beatles | Bohemian Rhapsody Queen |
| Rolling in the Deep Adele | Hotel California the Eagles |