DJ/Console System
Our karaoke system for clients who already have speakers
Features
Our easy to use tablet based karaoke system makes it extremely easy for you and your guests to have a great party. Don't waste your time with binders and CD's, with our system all you'll need to do is sing! Another fun feature is that you can use our speakers with your iPod or MP3 player to listen to your own music when you aren't karaoke'ing. As well, all our systems include a HDMI cable so you can use your television or projector as a second display.
Tablets
Two Tablets are included, the tablets are used to pick songs and build a playlist, they are ridiculously easy to use
Audio Output
XLR and 1/4″ cables are included
Songs
All our systems include 10,000 English songs, 600 French songs, from the 1950's to today, and all genres.
Display
A 22″ monitor for the singers to read the lyrics
Microphones
Two Professional Wired Microphones
Party Lights
Basic party light package, a laser light that emits red and green lasers
Fun Accessories!
All of our rentals include a box of props to help give your party a great atmosphere. Our prop boxes usually include sunglasses, hats and other fun accessories.
Delivery and Installation
Delivery in our free delivery zone is included in the price. If you live beyond our delivery zone please enter your postal code below to see the cost, Installation is also included and will take us about 30 minutes.

Need Time to Think About it?
Just fill in the boxes below and you'll get the following:
Free bonus

Get a free upgrade (a $15 value!) if you eventually book a system!

No Commitment Reservation

If we have availabilities, we'll set a system aside for you for up to 5 days at no cost.

More Information

We'll send you more information on our karaoke rental service!

Fun for Everyone!
Karaoke is great for all ages, from 5 years old till 80 years old. We've seen all kinds of parties, and everyone always has a great time. With karaoke, you can dance, you can sing, or you can just sit back and watch all your friends and family make fools of themselves (while having a great time!).
You'll be Singing All Night Long!
Not only will you get an amazing song selection with songs from the 1950's till today, but you will also get our amazing tablet based system: you use the tablet to pick a song, which then plays on the included screen. We are also the only karaoke rental company in Montreal that exclusively rents out professional audio equipment (you'll feel like a real singer, but probably won't sound like one!).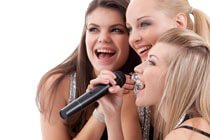 A Real-Life Experience: Frank
Frank had Karaoke at his 30th birthday party and couldn't have had more fun!

Join Hundreds of Satisfied Clients
We've had the pleasure of sharing our karaoke with birthdays (sweet sixteens, 30ths, 80ths and everything in between), weddings, baptisms, anniversaries and just plain old house parties.
"Wow! What an amazing night! The kids loved it and the tablet system is genius! A large song choice, even the adults couldn't resist the microphones! It was truly a superb night and we can't wait to start over at our next family reunion! Thank you for your service and see you soon!"
Sophie who had karaoke at her daughter's birthday party
"Everything went perfect and we had an amazing night!! All of us were really exited and didn't want the night to end!! Thanks for your support!"
Yadira H. who had a home karaoke birthday party
"The service for the set up was friendly and easy, the equipment and song choices were terrific. It was a Great Memorable Evening thanks to Karaoke Montreal. I wouldn't hesitate to recommend them!"
Linda S. who had a family karaoke party at home!
"We all had a blast! Even the shy ones got up and sang. It was fantastic 🙂 You are now officially our "GO TO GUY" for future parties! Thanks again for a great service."
Tanya G. who had karaoke at her son's baptism.
"Extremely fun activity that turned our wedding into a party! for kids and parents alike. Sean and his team went above and beyond to make our day even more memorable! Equipment easy to use, lots of songs to choose from, super friendly service. It definitely was the perfect choice for a perfect day! Thank you so much Karaoke Rental Montreal!!" Cole & Kelly."
Cole and Kelly who had karaoke at their wedding

Satisfaction Guarantee
We offer the best karaoke rental service in Montreal. Our state of the art systems are guaranteed to make a great party!*

Hi, I'm Sean, owner of Karaoke Montreal. If you have any questions about our service please send me an email or call 514-360-2472. You can also quickly click here to book